Regional
Technology
BankMuscat Chooses Avaya Unified Communications to Enhance Customer Service
One of the GCC's most forward-thinking banks announced that it has successfully deployed Avaya Aura (TM) to enhance customer service and boost productivity.  BankMuscat has more than 1600 staff in its new head office, located in the Airports Heights area of Muscat, and today announced its plans to extend its Avaya unified communications approach to its 120+ branches around the sultanate, creating one of the largest Avaya networks in Oman.
Empowering BankMuscat staff and branch network to serve customer needs in a timely, informed and proactive way, Avaya's unified communications solution streamlines the bank's operations by giving employees the tools and information they need to better serve the bank's growing customer base. Using Avaya's SIP (session initiation protocol) – enabled platform and various mobility applications, BankMuscat has reduced the cost of its communications to focus on core business – looking after its customers' banking needs.
"Transparent and seamless communication is at the heart of any banking relationship, and working with Avaya gives BankMuscat a platform to better understand our customers' needs while improving the speed and efficiency of our communications with them.  Since we initially deployed an Avaya network, BankMuscat has seen a 30% reduction in communications costs as well as an 15% increase in our operational efficiency," said John Cooper, Deputy GM, IT & Operations, BankMuscat.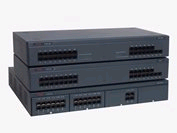 Reckoned Oman's best bank, BankMuscat saw the move to its new corporate headquarters as an incentive to unify and streamline its previous approach to external and staff communication.
"The most forward-thinking banks in the Middle East recognize that effective communications enables them to serve their market and be as agile as possible in introducing new services and opportunities while running a more collaborative and productive operation.  BankMuscat has put unified communications at the heart of their business as a means to reaching out and listening to customers, and they are seeing measurable benefits from the Avaya solution," said Nidal Abou-Ltaif, Vice President of Emerging Markets, Avaya.